Today I am super excited to have my real life friend, Chassity Evans, creating a space for baby girl. We connected a few years ago through our blogs and have been good friends ever since. If you follow her blog Look Linger Love you know she has some amazing style. Her house is off the hook good y'all. She has great taste and can really put a room together. And her daughter Lily is the best dressed little girl around, I hope she is going to pass some old clothes baby girl's way or at least share some style tips with my daughter:) I had no doubt Chassity would create something I would absolutely be in love with. This space is perfection!
………………………………………………………………
Hi Everyone! I'm so so so happy to be here today talking about Natalie's Baby Girl. I love her already and I haven't even officially met her. How lucky she will be to have Sterling as a big bro (I mean, imagine all the good looking friends he will have). Sorry Natalie and Matt.
Anyway, thanks for inviting me to design a nursery board for your little gal, Natalie. I hope you like it!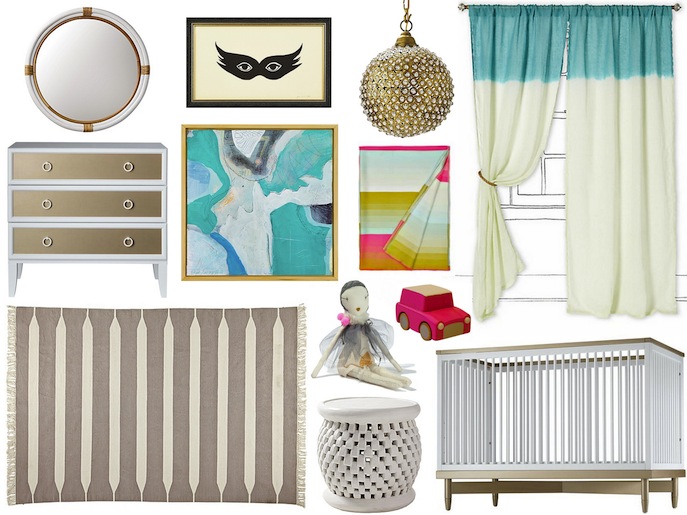 So some of you might know how much I love The Land of Nod. And I really love the new DucDuc line they just released. Such a good looking modern line.They also have a great collection of toys and things – especially Jess Brown dolls. Lilly has one that she LOVES.
That Marmont Pendant is a really versatile light – I have it in my powder room and a friend of mine has it in her hallway. Oh and that stripe rug is pretty great too – reminds me a lot of the Madeline Weinrib rug that's so popular. And you might have noticed that a chair is missing in the moldboard. I couldn't fit it in at the end but I highly recommend this Joya Rocker that we have in Fletcher's room. I love it for it's small shape and good looks. It has a nice smooth rock to it. I love this white leather version, too.
And because I'm getting this post to Nat super late and figure I outta go above and beyond for this guest post, I thought I'd throw in a few fun extras that I think Baby Girl Mason would love.
neon stars sleep sack, hooded towel, striped one piece
striped baby booties, jellycat ostrich, polka dot baby booties
noodle & boo set, tane baby leggings, baby journal
Just like how you can't have enough comfy onesies, nor can you have enough little booties. And have you smelled Noodle & Boo products before? They are intoxicatingly good. And we have a jellycat cow and I bet it's the softest stuffed animal we have in our house.
Can't wait to meet baby girl!